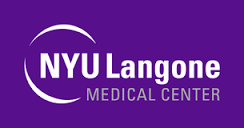 Project Coordinator at NYU Langone Medical Center
New York, NY
NYU Grossman School of Medicine is one of the nation's top-ranked medical schools. For 175 years, NYU Grossman School of Medicine has trained thousands of physicians and scientists who have helped to shape the course of medical history and enrich the lives of countless people. An integral part of NYU Langone Health, the Grossman School of Medicine at its core is committed to improving the human condition through medical education, scientific research, and direct patient care. For more information, go to med.nyu.edu, and interact with us on Facebook, Twitter and Instagram.
Position Summary:
We have an exciting opportunity to join our team as a Project Coordinator.

In this role, the successful candidate The Section for Health Equity at NYU Grossman School of Medicine's Department of Population Health is looking to hire a full time Project Coordinator. The Project Coordinator will work primarily on a new initiative that will utilize community-partnered research approaches to assess opportunities for improving lifestyle behaviors among diverse New York City residents - in particular older adult and immigrant communities. This exciting new initiative involves integration within a multidisciplinary team of experts in community-based research, epidemiology, systems science and implementation science across multiple partnering institutions. This position includes project coordination, collaborations with both national and local stakeholders, and support for other Section work - including development and delivery of community/clinical health education and programs for both COVID and non-COVID related health outcomes. This position is contingent upon continued availability of grant funds.
Job Responsibilities:
Demonstrate thorough knowledge of our research studies, study rationale, and processes.
Project Coordination - Provides moderate to advanced coordination for Project activities to a manager/director of department that includes but not limited to: coordination of Projects while working/communicating with internal and external parties to organize and coordinate the various components needed to initiate, run and conclude Projects activities. Might evaluate and make recommendations based on analyses, observation and or feedback. Develops Projects schedules, may oversee Project purchase requisitions and invoice payments. Assists in developing departmental plans, goals, objectives, policies and procedures.
Reports - Prepares and review documents independently and generates status/progress reports for ongoing and pending Projects. Plans, arranges, outlines and drafts letters, memos, agendas presentations and reports. Advanced analysis is required to present findings. Reviews, edits and obtains appropriate approvals. Responds to more complex correspondence and refers the more complex issues with recommendation to supervisor. Follows protocols as defined by granting organizations and Medical Center's policies and procedures.
Research Activities - Researches/gathers and collects data from different parties and presents findings and preliminary analysis as applicable. Researches problems, issues and concerns and responds to requests for information. Develops materials and presentations for training and educational sessions, departmental seminars, external research conferences and peer-reviewed manuscripts. Submits and maintains institutional review board approval and other required protocols as per Medical Center policies and procedures.
Grants - Assists in grants related activities such as developing grants applications/proposals and fund-raising activities if applicable. Collects and organizes required paperwork for submission if required for the grant. Follows up and coordinates resolution of all issues.
Project Support - Assists in the recruitment, hiring and training of staff, assistants, trainee and volunteers for the Project department. Reviews workflow and recommends improvement if applicable to ensure appropriate cycle times and efficiency.
Scheduling & Coordinating - Organizes and coordinates schedules, activities and special events. Coordinates conference preparation activities (checking and coordinating the logistics and technical support, making food and beverage arrangements, etc) and other related activities. May assist in special events planning.
Participates in special projects and performs other duties as required.
Minimum Qualifications:
To qualify you must have a Bachelor degree or equivalent in business administration, health care administration or related field or an equivalent combination of education and relevant experience. Proficiency in using various Microsoft Office applications such as Word, Excel, Access, PowerPoint and Outlook. Familiar with Internet applications.
Effective oral, written, communication, interpersonal skills. Ability to interface effectively with all levels of management and must work and communicate effectively with both internal and external customers. Ability to work within a team environment as well as independently. Time management skills and ability to work well under pressure. Ability to Project/Program manage and to multi task while paying attention to details.
Preferred Qualifications:
Masters degree in epidemiology, public health or related fields with at least 2 years of relevant experience. Qualitative data analysis experience for entire process: including topic guide development, data collection (focus groups, key informant interviews), coding using Dedoose, Atlas.ti or other software, reporting and peer-review manuscript development/dissemination. Familiarity with implementation science frameworks and checklists. Interest and prior experience in policies and programs to improve diet/nutrition and other lifestyle behaviors. Strong commitment to health disparities and equity research. Flexibility and innovation with formulating solutions in an applied setting
Qualified candidates must be able to effectively communicate with all levels of the organization.

NYU Grossman School of Medicine provides its staff with far more than just a place to work. Rather, we are an institution you can be proud of, an institution where you'll feel good about devoting your time and your talents.

NYU Grossman School of Medicine is an equal opportunity and affirmative action employer committed to diversity and inclusion in all aspects of recruiting and employment. All qualified individuals are encouraged to apply and will receive consideration without regard to race, color, gender, gender identity or expression, sex, sexual orientation, transgender status, gender dysphoria, national origin, age, religion, disability, military and veteran status, marital or parental status, citizenship status, genetic information or any other factor which cannot lawfully be used as a basis for an employment decision. We require applications to be completed online.
If you wish to view NYU Grossman School of Medicine's EEO policies, please click here. Please click here to view the Federal "EEO is the law" poster or visit https://www.dol.gov/ofccp/regs/compliance/posters/ofccpost.htm for more information. To view the Pay Transparency Notice, please click here.