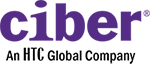 Project Manager at CIBER, Inc.
Bothell, WA 98021
Live IT Up at Ciber Global
At Ciber Global, we believe the most inspired, innovative and industrious companies should win, regardless of size or legacy. We're the small company that cares and the big company that can. We deliver breakthrough performances and powerful solutions that are anything but cookie cutter in order to give our clients the competitive advantage they deserve.
Work.
Description:

Collaboration and Productivity PM for facilitation of upgrades, decommissioning, and operational maintenance for all supported platforms including, but not limited to O365, Slack, Cisco/Webex
At least 5 years relevant experience required.
Responsibilities:
Manage all aspects of small to intermediate projects throughout the development lifecycle, including project scope, schedule, resources, quality, costs and change.
Work closely with stakeholders and to define project parameters, then translate customer needs into formal requirements, using knowledge of the industry and delivery methodology.
Develop detailed project schedule, resource plan, and status reports, managing task assignment to project resources and reporting on and managing project scope throughout the lifecycle.
Interface with all areas affected by the project, including end user, services organizations, vendors and implementations partners.
Review project deliverables for accuracy, and apprise management of risks, issues, and recommended mitigations.
Ensure satisfactory transfer of custody and control of product upon handoff, then close all project documentation and archive appropriate records.
This position requires the
successful completion of a background investigation and/or drug screen.
Ciber Global is an Equal
Opportunity Employer Minorities/Females/Gender Identity/Sexual
Orientation/Protected Veterans/Individuals with Disabilities.  
Play.
Keep discovering!
Click here.
Grow.
Ciber Global is an IT
consulting company who partners with organizations to develop technology
strategies and solutions that deliver tangible business value. Founded in 1974,
Ciber is an HTC Global Services company. For more information, visit www.Ciber.com.