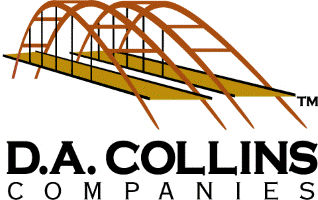 Project Manager/Estimator - Heavy Highway/Bridge/Environmental at D.A. Collins Companies
Wilton, NY
Project Manager/Estimator - Heavy Highway/Bridge/Environmental - Kubricky Construction / D.A. Collins Construction
The D.A. Collins Family of Companies has brought safety, quality and productivity to industrial, infrastructure, highway and bridge construction for over 70 years. As members of the D.A. Collins Companies, D.A. Collins Construction Co., Inc. and Kubricky Construction Corp. are seeking reliable individuals for full time positions as Project Managers/Estimators for our New York operations. This Position involves the management of either bridge, heavy highway or environmental construction projects and will require the applicant to manage project budgets and schedules.
Please submit a cover letter with your resume detailing your qualifications and interest in the position to: https://apply.dacollins.com/job/368/project-managerestimator-heavy-highwaybridgeenvironmental-kubricky-construction-d-collins-construction
Essential functions of the position (with or without reasonable accommodation):
Follow and reinforce company safety policies
Primary communicator with project owners and/or engineers
Attend pre-bid meetings with the owner, vendors, and subcontractors
Develop a complete and accurate bid proposal including quantity take-off, crew composition, and material and subcontractor pricing
Compare bid pricing to historical data
Develop budgets and negotiate subcontractor agreements and purchase orders
Outline and communicate specifications for superintendents and foremen
Procure materials and major equipment
Negotiate, secure, and manage subcontracts
Maintain D/W/MBE goals and EEO utilization awareness
Prepare and maintain the project progress and budget
Develop and maintain project schedule
Perform a variety of tasks that may include periodically having to lift heavy objects, stand for extended periods of time, stretch, walk, climb and bend under potentially adverse field conditions and be able to perform visual tasks such as backup spotting and hear and react to back up alarms, per safety protocol
Qualifications:
A bachelor's degree in civil engineering, construction management and/or environmental sciences
5 to 10 years' experience in bridge construction or environmental project management
A record of successfully estimating and managing heavy/highway or environmental construction from $50K to $20M
Have a working knowledge of means and methods, crew composition, and production rates for heavy highway/bridge or environmental remediation
Proficient in Microsoft Excel, Word, Outlook and CPM scheduling software with the ability to adapt to a variety of computer applications
Cost accounting experience preferred
The ability to work with a team to complete projects within stated deadlines
Strong attention to detail
Excellent written and oral communication skills
Analytical and problem-solving skills
Must pass a pre-employment drug screen
Must have a valid driver's license
Status: Full Time
Location: Headquartered in Wilton, NY but position may require travel.
Starting Date: As soon as available
Apply to: https://apply.dacollins.com/job/368/project-managerestimator-heavy-highwaybridgeenvironmental-kubricky-construction-d-collins-construction
We are an Equal Employment Opportunity Employer and we provide equal employment opportunities to all qualified applicants without regard to race, sex, sexual orientation, gender identity or expression, national origin, color, age, religion, protected veteran or disability status, or genetic information or any other characteristic protected by law.
$93,093.00 - $104,567.00 /year
Construction Project Manager
What is this?