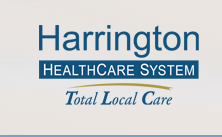 Psychiatric RN at Harrington Memorial Hospital
Southbridge, MA
Inpatient Psychiatric Unit
Associate's DegreeBasic Life Support Certification RequiredMA RN Required1 year of experience preferred
GENERAL DESCRIPTION: The staff R.N., under the supervision of the Nurse Director or designee, is responsible for the nursing care of assigned patients, and/or to act as Charge Nurse/ Resource Nurse and to prescribe, delegate and coordinate the patient care administered by staff. Included in such responsibility is the goal of assisting patients to move as rapidly, uneventfully and safely through their hospitalization period.
WORK EXPERIENCE REQUIREMENTS: A minimum of one year of general medical-surgical experience is preferred.
EDUCATION REQUIREMENTS: Graduation and training from an accredited school of nursing with current license by the Massachusetts B.O.R.N.. American Heart Association (AHA) B.L.S. certification for health care provider required upon hire or during orientation. (For Charge Nurse role, additional orientation and training is required.) Advanced Life Support skills within 6 months of hiring required; for RNs in designated areas as below, certification preferred.