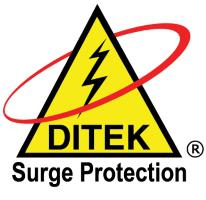 Quality Assurance Coordinator at DITEK
Largo, FL 33771
This position is located at DITEK Headquarters in Largo, FL.
Hours: Monday-Friday, 8am - 5pm

Job Summary:
The QA Coordinator is a mid-level position that works directly with the Director of Quality to ensure organizational compliance to ISO 9001 Quality Management System standards and customer requirements. The QA Coordinator will also participate in the implementation, communication, training and monitoring of OSHA policies and procedures.
Responsibilities:
Participate in the internal audits of the quality management systems and processes.
Support the creation and subsequent revision(s) to quality management system procedures and instructions.
Extract information from various sources and creating clear reports for organizational use.
Review non-conformities and root cause analysis to determine cause of nonconformity, and ensuring that appropriate corrective actions have been taken.
Review customer complaints and returned goods to identify potential issues and trends.
Assist in ensuring compliance to customer and other standard requirements particular to products such as RoHS, REACH, PROP65 and Conflict Minerals.
Assist with creating and implementing quality system training for DITEK employees.
Provide support to other quality department functions including the inspection and testing of incoming materials and in-process / finished products.
Review manufacturing and quality work instructions prior to release.
Assist in the review and analysis of Engineering Change Orders.
Participate in supplier evaluations and performance monitoring.
Assist in the promotion of organizational process improvement initiatives and participate in improvement activities.
Collaborate with other DITEK team members to organize and conduct OSHA training plans, monitor compliance and identify safety issues.
Education & Experience:
Associate Degree required, Bachelor's degree preferred.
Three (3) to Four (4) years' experience working in a Quality Assurance function including the auditing of quality management systems and related processes preferably in an electronic manufacturing environment.
General Requirements:
Understanding and practical working knowledge of IPC-A-610 and JSTD-001 workmanship or similar standards for acceptance of electronic assemblies.
Strong Microsoft office skills including Excel, Word and Access)
Experience with OSHA requirements and implementation programs.
Good verbal and written communication skills.
Capable of working in and supporting a team culture and environment, as well as accepting individual responsibility and accountability.
DITEK offers competitive salaries and a comprehensive benefits package to include: medical, dental, vision, life insurance, long-term disability, 401k with company contribution, tuition reimbursement and vacation, sick and personal days.
DITEK is a drug-free workplace and participates in E-Verify. DITEK provides equal employment opportunities (EEO) to all employees and applicants for employment without regard to race, color, religion, sex, national origin, age, disability or genetics.
48,764 - 83,324 /year
Quality Assurance Specialist
What is this?