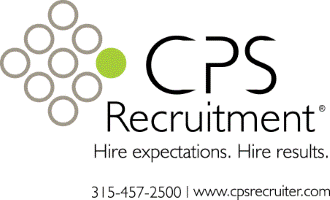 Registered Nurse (RN) - Staff from CPS Recruitment
Syracuse, NY 13204
CPS Recruitment, Inc. has recently partnered with a highly respected Residential Long Term Care facility located in the greater Syracuse area and is now hiring RNs for Staff & Management roles for both part time & full-time day, evening and night shifts
Offering competitive pay and excellent benefits for both Full and Part Time Nurses!

Description:

We are seeking nurses who have a proven commitment to providing patient focused quality care and who are looking to work in a team based environment.  We need individuals who can provide direction and mentorship; leading by example with a true passion for caring for others.
Minimum Requirements:
1 year of RN experience, can be in medical office, hospital or long-term care residential environment
NY State Registered Nurse License in good standing
Current CPS/BLS Certification
If interested, contact the healthcare team for more details at (315) 457-2500
or healthcare@cprecruiter.com
34 - 41 /hour
Registered Nurse
What is this?