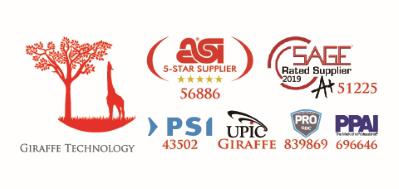 Sales Representative/Account Manager at GIRAFFE TECHNOLOGY
CITY OF INDUSTRY, CA 91746
GiraffeTech is a fast growing supplier and decorator in the promotional products industry in 2019-2020. We are looking for energetic, team oriented and goal driven individuals to join our sales team.
Responsibilities and Duties
Supporting client with product needs through sourcing, generating ideas, creating quotes
Servicing existing clients and creating and growing your client base.
Prospecting and developing relations with current clients and new business development through networking, calling and email campaigns.
Meeting with distributors to keep up to date on latest product lines and trends.
Investigate and solve customer issues.
Participate in industry trade show and sales events.
Achieve sales quotadget and margin objectives for all sales activities.
Assist Sales Manager with developing sales strategies as well as projects.
Qualifications and Skills
1+ years of ASI/PPAI experience priority
Ability to source products through ASI software, SAGE software and thorough internet searches
Working knowledge of screen printing, print processes, substrates and customization options
Knowledge of the Promotional Products industry, including the industry's business model, pricing structures, companies, and people are preferred.
Three years of sales experience working either as an Inside or Outside Sales Representative is preferred.
Exceptional cold calling, networking, and business development skills.
Solid time management skills.
Must be able to work in a fast paced, deadline and goal driven environment.
Ability to create lasting relationships with prospective clients.
Strong follow-up, work ethic, aggressiveness, and competitiveness.
Self-motivated and the ability to work independently.
40,000.00 - 80,000.00 /year
Commissions and Bonuses