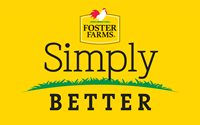 Sanitation at Foster Farms
FRESNO, CA 93706
Job Title: Sanitation
Shift: Swing (M-F)
Start Time: 3:30 PM – 12:00 AM
Pay Rate: $ 15.00
Job Description:
Wash and sanitize all equipment and floors in the plant for inspection.
Disassemble equipment and prepare for sanitation process.
Don all appropriate personal protective equipment.
Utilize high-pressure hoses.
Scrub equipment with scrub pads to ensure complete cleaning.
Help maintain and improve quality and food safety to insure compliance with company quality standards and USDA regulatory requirements.
Requirements:
Must be able to stand for long periods of time (8+hrs) on concrete/metal grate ergo stands of on the floor.
Able to climb tall ladders and catwalks.
Able to work with minimal supervision.
Must follow all safety rules and procedures.
Must be able to work with sanitation chemicals.
Other duties as assigned.
We have open interviews every week on Tuesday and Wednesday at our Belgravia plant located at 900 W. Belgravia Fresno, Ca 93706, between 8:00 am and 10:00 am. Please bring an ID and a facemask on whichever day that works best for you.
Application must be submitted prior to attending interview.
Please apply online at
https://jobs.fosterfarms.com/job/11296863/production-worker-fresno-ca /
Thank you for your interest in employment with Foster Farms, we look forward to meeting you soon.
Additional information
All your information will be kept confidential according to EEO guidelines.
Foster Farms is an Equal Opportunity Employer – Minorities, Females, Veterans and individuals with disabilities are encouraged to apply.
Foster Farms participates in E-Verify during the hire process at all locations for all new employees.
Job Type: Full-time
Pay: $13.00 - $16.50 per hour