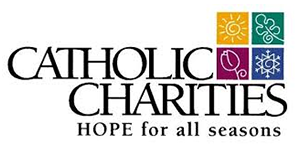 Save First Assistant Director of Emergency Services at Catholic Charities
Portland, OR
Save First Assistant Director of Emergency Services
Save First Financial Wellness
Full-time (40hours/week); Exempt
Reports to: Executive Director of Save First
AGENCY OVERVIEW:
Save First Financial Wellness, a service of Catholic Charities, supports financial empowerment for individuals and families through a continuum of services. Save First is a well-regarded, innovative and rapidly growing leader within the financial empowerment and asset building field with a mission to partner with the most vulnerable to achieve lasting solutions to poverty and injustice.
Are you looking for challenging, meaningful work where mission and people matter? Are you looking to be an integral part of an exceptional team with unlimited opportunity to learn and grow? If you answered yes, then please apply below. We'd love to meet you!
POSITION SUMMARY:
Save First's Assistant Director of Emergency Services will be responsible for the implementation and management of all emergency services employer and community contracts and the supervision of assigned staff to service those contracts. This position will provide intake, assessment, and administration of the emergency assistance funds of the corporate employer contracts; and, will work closely with team members to reconcile fund distributions and reporting to corporate employer contracts. This person will work collaboratively with the Executive Director of Save First to determine eligibility of prospective clients into the program and assess how best to put the funds to use. This position requires the ability to work as a team and integrate the client into every aspect of the program, ensuring a holistic approach to the client's needs.
PRINCIPLE DUTIES AND RESPONSIBILITIES:
Provide Spanish language services, as appropriate to Safe First community partners and clients.
Initiate and facilitate outreach opportunities and build relationships with the Latino community in the Portland Metro area to expand financial wellness services to the Spanish speaking community.

Provide Spanish language financial workshops as needed.

Provide Spanish language financial coaching services as needed.

Respond to program inquiries, conduct intakes and assess eligibility for program services.

Coordinate emergency assistance for eligible clients by communicating with clients and vendors, collecting and completing necessary paperwork and vouchers, and submitting requests to Catholic Charities (CC) Finance Department. Follow-up with clients as necessary.

Provide information and referral navigation as appropriate.

Provide effective case management for clients as needed.

Effectively support, coach, and manage assigned staff.

Train and coach assigned staff and new team members.

Reconcile funds disbursed with CC Finance Department and provide reports for internal and external stakeholders as needed.

Provide support for social media, blog posts, and website in Spanish.

Participate in trainings and coordination meetings as requested by Supervisor.

Adherence to Catholic Charities policies and procedures.

Perform other duties and responsibilities as assigned.
QUALIFICATIONS:
Bilingual / Bicultural competent. Ability to communicate concisely and effectively, both verbally and in writing in Spanish and English.

Bachelor's degree in human services or equivalent lived and or worked experience required.

Outstanding leadership skills with 2-3 years supervisory experience showing progression (Preferred).

At least two years' experience managing social service-related programs, including experience with staff supervision, program development, and budget management.

Ability to effectively work with standard office programs including Word, Excel, Outlook, Microsoft Teams and PowerPoint. Salesforce experience required.

Demonstrated competency working with people from diverse cultures. Ability to assess and treat clients in a culturally competent manner.

Demonstrate judgment and discretion in dealing with confidential matters.
Commitment to Catholic Charities mission to work in partnership with vulnerable populations to achieve lasting solutions to poverty and injustice.
Must be able to organize and prioritize work, be proactive, take initiative, follow through, and simultaneously manage multiple priorities to ensure goals are met in a timely manner. High attention to detail required.

Willingness to learn new skills and take on new responsibilities.

Strong analytical and strategic problem-solving skills.
Ability to work well in team setting, as well as independently; be flexible and adapt well to different dynamics in a fast-paced work environment.

Ability to work a flexible schedule, which could include some evenings and weekends.
Travel between sites in Portland required. Must have driver's license, access to vehicle and ability to obtain automobile insurance at levels required by agency (100/300/100).

Satisfactory results from criminal, civil and/or motor vehicle background check required.
COMPENSATION: Compensation is commensurate with skills and experience. Competitive benefits package, including: 100% employer paid health insurance (employee portion), disability, life insurance, paid time off, 12 paid holidays, retirement plan, free parking and more.
TO APPLY: Submit your application, resume and cover letter at https://catholiccharitiesoregon.applicantpro.com/jobs/
EQUAL OPPORTUNITY EMPLOYER