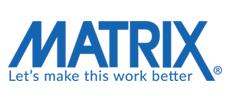 Senior BI Developer (Cognos) from MATRIX Resources
New York, NY 10001
This hidden gem is expiring soon - don't miss this opportunity.
This nationwide industry leader has an immediate 18+ month contract opportunity in New York, NY for a Sr. BI Developer (Cognos).  The Senior BI Developer is responsible for the data delivery to support various business units across the organization and in some cases for entities outside of the organization. Will work closely with BI Manager, BI Developers and various business stakeholders to support and provide quality of delivery for data delivery needs through the development of new or enhancement of existing reports and analytics. Will investigate information issues, articulate reasons for the issue and come up with possible approaches to address the issues. 

  

Responsibilities: 

• Work with various business stakeholders to identify their information needs.

• Work with Data Architecture team to understand the data models. 

• Work closely with cross-functional business and business intelligence teams to document reporting requirements and design documents.

• Developing, adhering to, and being a proponent for Data Warehouse development standards, including Cognos/Qlikview standards and best practices.

• Design and develop Cognos frameworks, ensure appropriate database views and/or tables are available to support the Framework information needs and that accurate information is presented through the framework.

• Design and develop Canned Reports, Analytics packages (OLAP), Dashboards, etc., using Report Studio, Cognos Workspace Advanced and Transformer. 

• Provide documentation for all developed stored procedures, including process flow and source and target mapping, report design, etc.

• Conduct performance tuning and troubleshooting of all data delivery mechanisms.

• Work with database administrators to make sure that the report/analytics are tuned and optimized. 

• Conduct data analysis thru various database techniques, SQLs, etc., and compile results appropriately for senior/executive management/legal. 

• Work with Business Intelligence Operations team to ensure control objectives are implemented for all data movement processes, implement change control for production data, establish and follow proper incident management procedures.

• Ensure compliance with all applicable data privacy regulations and policies as they relate to both firm and client/contact data.

  

Requirements: 

• Bachelor's Degree or higher or equivalent, relevant experience.

• Minimum of 5 years of experience in building various data delivery mechanisms in Business Intelligence.

• 5+ years of experience working with Cognos (Report Studio, Workspace Advanced, Framework Manager, Transformer, etc., ) and 1-3 years of experience in Qlikview/Qliksense.

• 5+ years of experience working with Relational Databases like Teradata, Vertica, Oracle, etc. 

• 5+ years of experience in data analysis, troubleshooting, etc., by writing SQL statements and stored procedures.

• Knowledge of MS-Office Suite (Word, Excel, Powerpoint).

• Excellent understanding of navigating data warehouses and relational database structures.

• Experience in writing complex SQLs to analyze and troubleshoot the issues/problems.

• Strong data analysis and troubleshooting skills.

• Excellent understanding of report development and data delivery. 

• Goal oriented and creative personality with good interpersonal skills. 

• Ability to manage multiple assignments simultaneously and follow up on unfinished business. 

• Ability to work independently and in a team environment.

• Ability to pay attention to the details and be organized.

• Commitment to internal client and customer service principles. 

• Willingness to take initiative and to follow through on projects. 

• Excellent time management skills, with the ability to prioritize and multi-task in a fast paced environment. 

• Excellent communication and motivation skills, and ability to interact appropriately with senior level colleagues and business users.

• Must have legal right to work in the U.S.