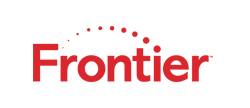 Senior Developer (.NET/ASP/SQL Server) at Frontier Communications Corporation
ROCHESTER, NY
About Frontier Communications
Frontier® Communications provides communications services to urban, suburban, and rural communities in 29 states. Frontier offers a variety of services to residential customers over its FiOS® and Vantage™ fiber-optic and copper networks, including video, high-speed internet, advanced voice, and Frontier Secure®  digital protection solutions. Frontier Business™ offers communications solutions to small, medium, and enterprise businesses.
Senior Developer (.NET/ASP/SQL Server)
Job Description
Frontier Communications is seeking a Senior Developer for its Rochester, New York development center. We are seeking a Microsoft technology focused developer to build and support core web applications to streamline business processes. This developer will work in all aspects of the software development lifecycle: define requirements, architect, design, implement, and test major components for this portal, using Microsoft .NET technologies. This agile team is focused on continuous site improvement based on evolving requirements, business needs, user feedback and site metrics.
Primary Responsibilities
Design, develop and implement components within applications
Collaborate with the team to develop and evolve a very intuitive User Experience, incorporating input from colleagues, site metrics, and user feedback
Identify and investigate key requirements, solutions, and technologies
Work closely with architects and developers from Frontier's infrastructure IT teams to integrate customer-facing web sites with Frontier's enterprise systems
Provide technical assistance with troubleshooting reports/cubes by responding to inquiries and questions
Conform to Frontier's SLDC policy.
Meet all project deadlines and keep within + / - 10% of all project estimates.
Responsible for production support for the team's applications.
Deliver software of the highest quality through good design, attention to detail, clever use of automated testing, and thorough unit/system testing
Deliver components on aggressive schedules
Collaborate with other members of the product development team throughout the development lifecycle
Lead and mentor other developers on the team
 Required Skills & Experience
Bachelor's degree in Computer Science or related field
3+ years experience in software development
3+ years working with HTML, CSS, and JavaScript/AJAX/JQuery
3+ years developing in ASP.NET / C#.NET
3+ years working with Microsoft SQL Server, including SSIS and SSRS
Skilled in database design, SQL, stored procedures, query performance analysis, and query optimization
Background in Web Services and related technologies (XML, JSON, SOAP, RESTful)
Experience working in N-Tier architectures (UI, Business Logic Layer, Data Access Layer) and with Service-Oriented Architectures (SOA).
Strong ability to develop and analyze requirements and to architect, design, and implement high-quality software solutions to meet those requirements
Solid object-oriented design, programming, and debugging skills
Proficient in leveraging development tools - source code mgmt, IDEs, and debuggers
Proven track record for project delivery
Highly motivated self-starter, who thrives in a fast-paced environment and can work independently with minimal supervision
Excellent team player, eager to learn from others and to share skills with colleagues
Excellent verbal and written communication skills
 Desired Skills & Experience
Experience in site scalability, performance analysis, and optimization
Experience with Agile software development methodologies
Microsoft certifications are a plus