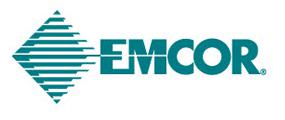 Senior Project Manager (Construction - HVAC - MEP) at Emcor
San Jose, CA
About Us:
Air Systems Inc. is a wholly owned subsidiary of EMCOR Group, Inc. EMCOR is the world's leading provider of mechanical and electrical construction and facilities services, including planning, consulting, and operations and maintenance. Air Systems Inc. is a TOTAL FACILITIES SOLUTION for HVAC, Architectural Sheet Metal, Preventive Maintenance & Service, Electrical, High Purity Process Piping, Plumbing, Building Automation Systems and Energy Solutions.
Job Title: -Senior Project Manager - MEP

Job Summary: 
Air Systems is looking for a seasoned Project Manager experienced in HVAC MEP who likes the challenge of unique designs, projects and deadlines. He / She is able to run jobs big and small, coordinating multiple jobs simultaneously, while also providing leadership to large project teams and to the MEP department. The Project Manager works with customers to develop the project scope of work, budgeting and estimating costs, and oversees preparation of documents and mechanical, Electrical, and piping project plans. The Project Manager assists in procurement of equipment and materials and is responsible for reviewing, reporting, and projecting all project costs. He / She manages project roles, identifying and coordinating resource requirements. The most important aspect of the job is to provide customer satisfaction. The Project Manager ensures effective communications and assures relationships between customers and project team members are maintained. 
Essential Duties and Responsibilities:   


Develops and maintains professional communications with co-workers and clients


Make sales contacts, research customer needs, and follow up on sales leads


Develop and maintain relationships with clients, assuring client satisfaction


Meet established revenue and profit goals


Attend client project meetings


Establish, manage, and provide leadership to job/project team


Facilitates and troubleshoots problems associated with project


Purchase materials and equipment as needed


Maintain control and accurate projections of project costs


Provide department leadership by example and mentoring.


Support accountability for individual projects as well as MEP department in general 


Maintains and follows established Air Systems Project Management procedures                                                                                                                       


 Qualifications: 
5+ Years experience as a Project Manager in HVAC / Plumbing industry.





Proficient on MS Office Suite


Excellent oral/written communication skills


Developed presentation skills


Excellent customer relations skills


Attention to Detail


Proactive


Be able to multi-task


Excellent Organization


Ability to problem solve


Team Player


Flexible


Able to work in a fast-paced environment


Creative use of skills and resources to get the job done


Air Systems, Inc. Standards of Success


Attitude of Safety First


Work Ethic of loyalty, integrity, pride, perseverance, accountability, respect and teamwork


Strong ambition to succeed


Adheres to company policies and procedures


Represents company in a positive and professional manner


Available to work for extended hours in order to meet deadlines


Handles oneself with professionalism during stressful situations


Maintains positive attitude and morale


Interacts effectively with all members of the organization and all outside associates


Completes responsibilities diligently


Thinks strategically and takes into account long-term implications of one's actions


Works independently, exercises discretion, applies common sense and makes competent decisions.


Complies with designated work schedule


Uses company resources wisely


Maintains neat, clean and organized work space



Constantly analyzes for ways to improve individual and/or company performance  




 




CB#1




 California is an "At Will" state. Employment with Air Systems an EMCOR Company is not for a specific term and it can be terminated by either the employee or Air Systems an EMCOR Company, with or without cause, and with or without notice at any time.




 




 We offer our employees a competitive salary and comprehensive benefits package and are always looking for individuals with the talent and skills required to contribute to our continued growth and success. EOE M/F/Vet/Disabled