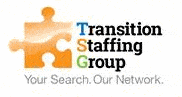 Senior Staff Accountant at Transition Staffing Group
San Diego, CA 92121
One of San Diego's Premier Commercial Real Estate companies is looking to add a Senior Staff Accountant to their team. This is without a doubt one of the top companies to work for in San Diego. We are looking for a sharp candidate with 2+ years' experience coming ideally from a mid-sized to larger public accounting firm. OR, someone coming with experience in accounting at a commercial real estate company.
If you fit the profile and are interested in this position, please apply.
Compensation: $70,000 - $75,000 (plus exceptional benefits and additional bonus/comp plan)
Your Contribution to the Team Includes:
General Ledger
Complete month-end close procedures and accurately reconcile assigned balance sheet and income statement accounts to meet company's reporting deadline.
Prepare monthly journal entries, income and expense accruals, and US/UK GAAP adjustments, such as straight-line rent.
Reconcile and record monthly mortgage payments, lockboxes and reserves.
Review and adjust prepaid rents and other receivable accounts.
Financial Reporting and Analysis
Assist with quarterly UK financial reports and supporting schedules for UK Board meetings.
Assist with annual UK financial statements and disclosures for UK statutory audits.
Prepare budget vs. actual, actual vs. actual financial variance schedules. Provide explanation of significant fluctuations. Budgeting and Forecasting
Assist with annual budget and quarterly reforecast process.
Accounts Payable
Review property invoice coding for accuracy for the assigned portfolios.
Work with AP team and other departments to ensure timely payment of vendor invoices.
Review coding on international wires.
External/Internal Audit
Assist in audits and analysis of property-level financials, as wells as walk through of internal controls.
Document accounting procedures and processes.
Perform other duties as assigned.
Requirements
What You'll Need to be Successful:
Bachelor's degree from an accredited college or university, with an emphasis in accounting, finance or related field.
2+ years of relevant work experience, public accounting experience preferred.
Real estate industry experience is preferred.
International accounting experience is preferable.
Clear understanding of GAAP and lease accounting.
Must be organized, detailed, flexible, efficient and take ownership of own work product.
Ability to work under pressure and adhere to strict deadlines.
Strong analytical and communication skills.
Ability to communicate with third parties, especially international contacts.
Intermediate to advanced Microsoft Excel skills.
70,000 - 75,000 /year
Discretionary Bonus, Company Stock