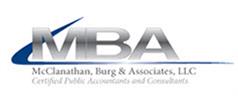 Senior Tax Accountant at McClanathan, Burg & Associates, LLC
Saint Petersburg, FL 33701
Senior Tax Accountant
McClanathan, Burg & Associates, LLC, a full service accounting and consulting firm, serves clients throughout the Tampa Bay area. We are not your typical accounting firm and, in fact, feel that compliance work is a necessary evil. Our main focus is the success of our clients!
We are currently seeking an ambitious; people oriented, authoritative decisive senior level Tax Accountant with drive and high aspirations who can move with our firm to a higher level.
Expectations are as follows:
Professionally manage client relationships
Assist in training and supervising junior staff
Assist with tax planning for high net worth clients
Prepare and review corporate, individual, partnership, fiduciary and other tax returns
Prepare monthly billing statements and monitor budgets
Assist in establishing policies to improve efficiencies
Identify and resolve conflicts
Represent the firm at networking events
Identify and attract new business
Position requires the following:
Bachelor's degree in Accounting or related field
Current/valid CPA license or Enrolled Agent license or be working toward obtaining the license
5+ years' recent public accounting experience
Ability to thrive working independently while still functioning as a leader
Ability to help promote a team environment
Strong communication skills
Results driven
Deadline oriented
Proficient with accounting and tax software
Exemplary work ethic
We are proud to offer the following:
Excellent office environment
Competitive salary
Employee paid health insurance
Monthly HSA contribution
401(k)
Life insurance
Disability insurance
Paid time off and paid holidays
Garage parking
Paid dues and CPE expenses
Our most important asset is our team of talented, skilled professionals ready to serve our clients. If you are looking for an opportunity to grow with a CPA firm that takes a proactive interest in, and a direct involvement with clients, where your job related skills and ideas can make a difference, and where you can be supported in your professional growth and recognized for your contributions, please apply.
McClanathan, Burg & Associates, LLC is an Equal Opportunity Employer
61,506 - 77,799 /year
Tax Accountant
What is this?