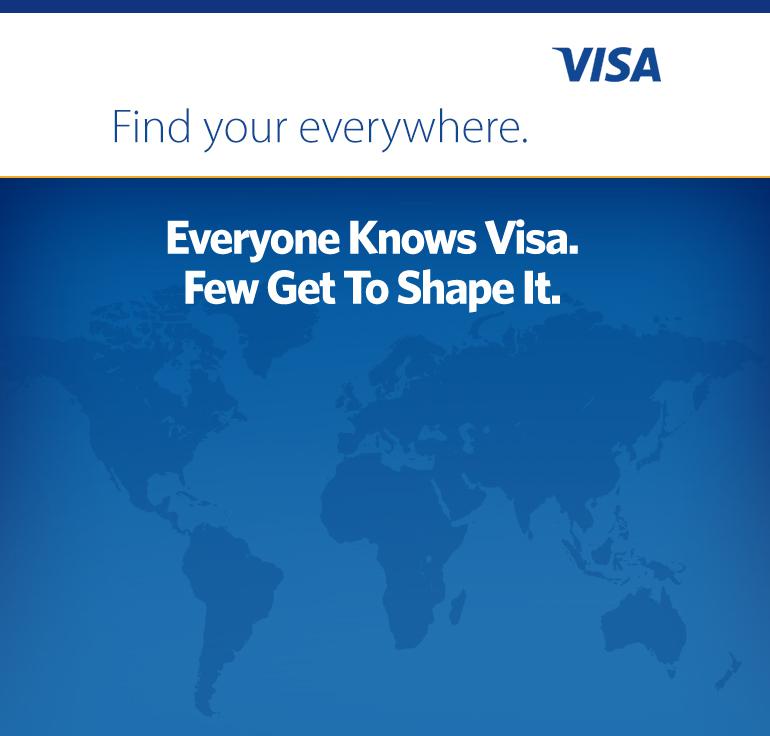 Senior Technical Writer at Visa, Inc.
Austin, TX
Company Description
Visa Inc. is a global payments technology company that connects consumers, businesses, financial institutions and governments in more than 200 countries and territories, enabling them to use digital currency instead of cash and checks.

Visa does not issue cards, extend credit or set rates and fees for consumers.

Visa's innovations enable its bank customers to offer consumers choices: Pay now with debit, ahead of time with prepaid or later with credit products. From the world's major cities to remote areas without banks, people are increasingly relying on digital currency along with mobile technology to use their money anytime, make purchases online, transfer funds and access basic financial services. All of which makes their lives easier and helps grow economies.

Behind the Visa brand are our talented employees who continuously raise the bar with innovative solutions and products that deliver the convenience and security of digital currency to more people all over the world.
Job Description
Come be a key part of a high-performing and motivated team in the vanguard of documenting Visa products and services, including Visa digital, mobile payments, e-commerce, money transfer, and much more for Financial Institutions, partners, vendors, and Visa staff around the world.
As part of the Network Processing Communications team, youll work closely with other team members to develop technical articles for the Global Technical Letter and Implementation Guide (GTLIG) and Global Service Activation Guide (GSAG). These technical articles document enhancements to various Visa products and services as well as changes to existing core systems being made in the VisaNet Business Enhancements Release.
Our writers collaborate with systems architects, software engineers, project managers, business partners, and client support staff to ensure multi-system technical requirements and/or implementation and testing requirements are fully developed and documented for Clients and Visa staff. We proactively support consistent on-time delivery of Client documentation for every Visa Business Enhancements Release, ensuring that this SSAE 18 audit item is successfully met.
On our team, youll analyze business requirements, multi-system conceptual approaches, and technical designs to define and document the technical changes and configuration and testing requirements for both Clients and Visa staff. Youll also determine from project documents as well as consultations and article reviews with the project team the information applicable to each audience and how it will be presented and positioned in the article.
Other projects our team works on include standalone Technical Letters, Client Implementation Guides, Service Activation Guides, and Service Advisories for off-release systems implementations, as well as updates to internal guides for customer service staff.
Building and managing strong relationships with business partners and technology teams, as well as regularly interacting with both technical and non-technical staff, are key to smoothly and successfully delivering our projects on time.
As key contributors and subject matter experts in their own right, our writers also support the VisaNet Business Release process by serving as technical contacts and/or providing support in the Command Center. They also serve as third-level support for Client inquiries.
Qualifications
Bachelors Degree in Information Systems, Communications, or related technology focused field.
Seven or more years of technical writing or related experience. Extensive experience with writing technical documentation based on technical project artifacts and interactions with Subject Matter Experts, including system architects and senior software engineers required.
Strong knowledge of the structure and content of the English language including the rules of composition and grammar.
Strong customer service, analytical, research, interpersonal and problem solving skills required.
Strong interpersonal, facilitation, and leadership skills along with effective communication (both written and verbal) skills.
Demonstrated ability to absorb, analyze, and understand new information, technologies and practices quickly.
Proven business processes analysis skills: gathering business requirements, analyzing systems impacts, accurately capturing system requirements and specifications.
Strong knowledge of MS-Office products for Windows including Word, Excel, Visio, and SharePoint.
Experienced with advanced authoring software such as Acrobat.
Experienced with graphics editing software such as Illustrator, Photoshop, or PaintShop Pro. (preferred)
Knowledgeable with Visa systems or applications. (highly preferred)
Familiar with XML documentation tools and profiling; XML editor (Arbortext Editor) and document repository (Documentum).(highly preferred)
Familiar with Web design tools (SharePoint Designer and Workflow). (preferred)
Additional Information
Visa will consider for employment qualified applicants with criminal histories in a manner consistent with EEOC guidelines and applicable local law.