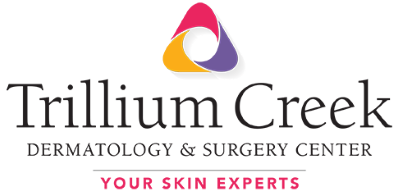 Social Media/Public Relations at Trillium Creek Dermatology and Surgery Center
Medina, OH 44256
Social Media and Public Relations
Trillium Creek Dermatology and Surgery Center
Pay: Hourly
Hours: Monday - Friday: 7:45am – 4:30pm Additional hours for health fairs, Trillium Creek events, etc.
Benefits: 401k, Paid Vacation, Health, Aflac, Vision, Dental, 30 minute lunch break
Location: Based out of the Medina location
Reports to: Chief Operating Officer
Position Description:
This Social Media Marketing Coordinator/Public Relations position is focused on web and social media advertising, developing and implementing digital marketing strategies, and marketing communication projects that include managing social media platforms, public relations, creating brand awareness, and build relationships with companies and patients in surrounding communities to build positive engagement. Trillium Creek Dermatology & Surgery is looking for an individual who is highly motivated, creative and has great attention to detail.
Essential Skills Required:


Build relationships with companies and patients in surrounding communities to build positive engagement which will then grow our exposure so people are familiar with Trillium and the services we offer
Solicit large local companies to promote and offer preventative screenings
Works with the marketing department
Join the MCPAL board
Be the point person for the Chamber of Commerce and Main Street organizations for Medina, Wooster, and Wadsworth
Build relationships with local schools – advertising, fundraising, sponsorships, etc.
Keep track of organizations that Trillium either sponsors, donates, and/or helps with fundraisers.
Set up, coordinate, and attend health fairs and Trillium Creek events
Go out into the community to reach people who have never been to our offices and gain patients
Understand all the services Trillium offers
Go to referring physicians' offices and build relationships, say thank you, etc.
Attend employee fairs
Build relationships with Trillium Creek employees
Type up and communicate suggestion board ideas from employees
Build and execute social media strategy through competitive research, platform determination, benchmarking, messaging and audience identification
Generate, edit, publish, and share daily content (original text, images, video or HTML) that builds meaningful connections and encourages community members to take action
Optimize company pages within each platform to increase the visibility of the company's social content
Create editorial calendars and syndication schedules
Continuously improve by capturing and analyzing the appropriate social data/metrics, insights and best practices, and then acting on the information
Collaborate with other departments to manage brand, identify key players and coordinate actions
Edit brief videos for YouTube
Put together and manager podcasts and press releases
Attend events for LIVE social media posts
Optimize brand awareness through all social media outlets – YouTube, Facebook, Twitter, Instagram, Pinterest, etc.
Stay up to date on all social media trends
Execute live social media posts. Examples: showcase new providers/services/treatments, educational sessions with the providers on various topics, updates on Wadsworth, etc.
Measure the success of social media campaigns
Essential Skills Required:
Ability to deliver creative content
Be cheerful and friendly - a high level of customer service
Excellent communication skills
Work well with co-workers
Bring a high level of energy to work every day
Attention to detail
Be efficient, organized and forward thinking
Local travel
Present a highly professional image
Experience sourcing and managing content development and publishing.
Be efficient, organized, positive, good communicator, and forward thinking
Layout skills, creativity, flexibility, attention to detail, dependable
Training will be provided
Preferred Experience: Knowledge of Vertical Response, HootSuite, WordPress, Weebly, Adobe Creative Cloud and Photoshop is desired. BS in Communications, Marketing, Business, New Media or Public Relations is desired but not required. Knowledge of social media platforms (ie: Facebook, Twitter, Instagram, YouTube, LinkedIn, Pinterest, etc.) is required
Physical Requirements: Prolonged sitting and standing. Must be able to set up for various events (banners, tables, chairs, carry marketing items, etc.).