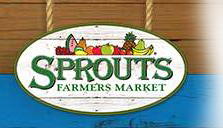 Staff Accountant at Sprouts
Phoenix, AZ 85054
The Staff Accountant will research and prepare entries to post cash transactions for various bank accounts.  Interact with various departments such as Finance/Treasury, Accounts Payable and Receivable, and other various operating teams to resolve various matters.  The current scope of responsibility includes (i) research and post incoming payments to the general ledger; (ii) monitor cash clearing accounts monthly to ensure balances are cleared and are at $0 at the end of the month; (iii) post approved journal entries received from various department as requested; (iv) prepare account reconciliations for assigned accounts on a monthly basis; (v) prepare and process weekly payroll and monitor and clear corresponding suspense account; (vi) prepare various financial reporting schedules utilized in the Company's internal/external reporting, and (vii) support external and internal auditors with various requests. The position is based in Phoenix, Arizona.
Provide research and post incoming payments to the general ledger. Knowledge of GAAP accounting is used to create journal entries with appropriate debits and credits.

Monitor cash clearing and suspense accounts to ensure balance is $0 at end of month. Post approved journal entries received from other departments to the general ledger as requested.

Prepare and process weekly payroll to the general ledger, and maintain $0 balance in the payroll suspense account.

Prepare monthly balance sheet reconciliations and internal reporting schedules as assigned. Reconcile balance to appropriate source including sub-ledgers, counter-party balances, and other support as necessary.  Include necessary documentation to support the reconciliation in accordance with Sprouts' policy.

Perform day-to-day accounting functions for Sprouts Healthy Communities

Identify any areas or processes for improvement.  Evaluate current practices, determine if there are any risks or opportunities, and recommend improvements/changes. Review and recommend updates to current policies and procedures annually.  Establish procedures for tasks as necessary.
Bachelor's degree in Accounting or Finance required

CPA designation or CPA candidate; preferred

Strong understanding of U.S. GAAP and internal controls, required.

Competency in Excel and proficient with other Microsoft Office suite products (e.g., One Note, Word, PowerPoint)

Ability to work both independently and in a team environment. Ability to maintain composure under pressure while meeting multiple deadlines

Effective verbal and written communications, including active listening skills, problem solving skills and presentation skills

Ability to both identify and remove barriers to progress or change

Willingness to proactively seek out others within the organization to obtain proper coding for certain checks or incoming payments
The physical demands and work environment characteristics described here are representative of those that must be met by a team member to successfully perform the essential functions of this position or that a team member encounters while performing the essential functions of this position. Reasonable accommodations may be made to enable individuals with disabilities to perform the essential functions.
Most work is performed in a normal office environment

Lift and carry materials weighing up to 20 pounds

Operate a variety of standard office equipment including a computer, telephone, calculator, copy and fax machine requiring continuous and repetitive arm, hand and eye movement

Travel to/from meetings and to various locations
MS123
In addition to a rewarding career, Sprouts offers a comprehensive program to help support you and your family. These programs include:
Competitive pay

Opportunities for career growth

15% discount for you and one other family member in your household on all purchases made at Sprouts

Flexible schedules

Employee Assistance Program (EAP)

 
Eligibility requirements may apply for the following benefits:
401(K) Retirement savings plan with a generous company match

Affordable benefit coverage, including medical, dental vision

Pre-tax Flexible Spending Accounts for healthcare and dependent care

Company paid life insurance and short-term disability coverage
Grow with us!
If you have a passion for inspiring people and a flair for fresh food, consider applying for a job at Sprouts! With a focus on customer service, our neighborhood grocery stores offer high-quality, farm fresh produce, natural meats, plenty of scoop-your-own bulk goods and much more in a fun, friendly, old-fashioned farmer's market setting.  Come grow your career in healthy living with a fast-paced, rapidly growing company and teams that pride themselves on empowering others along their journey.
The above statements are intended to describe the general nature and level of the work being performed by people assigned to this work. This is not an exhaustive list of all duties, responsibilities, and requirements. Sprouts' management reserves the right to amend and change duties, responsibilities, and requirements to meet business and organizational needs as necessary.
California Residents: We collect information in accordance with California law, please see here for more information.