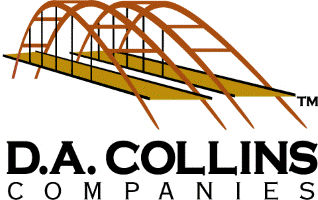 Surveyor at D.A. Collins Companies
Wilton, NY 12831
The D.A. Collins Family of Companies has brought safety, quality and productivity to industrial, infrastructure, highway, environmental, and bridge construction for over 70 years. As members of the D.A. Collins Companies, Kubricky Construction Corp., and D.A. Collins Construction Co., Inc. are seeking reliable individuals for full time positions as Surveyors.
Please submit a cover letter with your resume detailing your qualifications and interest in the position to: https://apply.dacollins.com/job/371/surveyor-kubricky-construction-d-collins-construction
Essential functions of the position (with or without reasonable accommodation):
Coordinate and communicate on site with project engineers, superintendents and foremen
Field responsibilities will include data capture for control and as-built record information and construction layout to support various construction activities, including the support of heavy highway, bridge, structural and environmental projects, including large earthwork and marine projects.
Office responsibilities will include computations for survey control and construction layout, quantity takeoffs for project tracking, bidding, as-built mapping, etc.
Additional field responsibilities may include structural monitoring and/or hydrographic data capture.
Current OSHA 10 and 40 training will be necessary but can be provided.
Perform a variety of tasks that may periodically include having to lift heavy objects, stand for extended periods of time, stretch, walk, climb and bend under potentially adverse field conditions and be able to perform visual tasks such as backup spotting and hear and react to back up alarms, per safety protocol
Qualifications:
Bachelor's or associate's degree in land surveying or civil engineering preferred
Experience with all or any of the following is preferred: Civil3D, Revit, Infaworks, Microstation, Trimble Realworks, Trimble Business Center, Trimble Access, and/or SCS 900.
Prior field experience and ability to work independently is required.
Ability to work independently using robotic total stations, GPS base, and rover setups. Experience in drone and LIDAR data capture is a plus.
Excellent communication and attention to detail required
Willingness to travel
Clean driver's license
Must pass a pre-employment drug screen
Training may be provided for the office aspect of this position for the right candidate.
Location: Headquartered in Wilton, NY but position will require travel

Status: Full Time
Starting Date: As soon as available
Apply to: https://apply.dacollins.com/job/371/surveyor-kubricky-construction-d-collins-construction
We are an Equal Employment Opportunity Employer and we provide equal employment opportunities to all qualified applicants without regard to race, sex, sexual orientation, gender identity or expression, national origin, color, age, religion, protected veteran or disability status, or genetic information or any other characteristic protected by law.