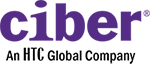 Technical Recruiter at CIBER, Inc.
Dallas, TX 75001
Live IT Up at Ciber Global
At Ciber Global, we believe the most inspired, innovative and industrious companies should win, regardless of size or legacy. We,re the small company that cares and the big company that can. We deliver breakthrough performances and powerful solutions that are anything but cookie cutter in order to give our clients the competitive advantage they deserve.
Work.
Ciber Global is seeking a Technical Recruiter!
Talent Acquisition is responsible for delivery excellence by building relationships through consistent delivery of qualified consultants in support of Ciber Global's mission. Ciber Global recruiting is a highly integrated and collaborative organization focused on supporting a hybrid (Practice, Solutions, and Strategic Staffing) business model. Recruiting must be adaptable and scalable to service geographic delivery and practice demands.
 Responsibilities:
 Function in a dynamic environment to achieve success through developing and maintaining a healthy candidate pipeline.
 Maintain professional and courteous communication with prospective candidates to foster long-term relationships.
 Draw upon a proven recruiting background to identify and manage candidates throughout the hiring process, from initial identification through offer acceptance.     Recruiting cycle includes sourcing, screening, interviewing, evaluating, and negotiating compensation.
 Follow standard, documented policies and procedures for all recruiting activity.
 Utilize a consultative, professional approach to evaluate candidate skills/abilities and place in IT consulting roles that meet their skills and expectations.
 Work in a collaborative team environment with other recruiting staff, sales, and administrative professionals.
 Perform in depth sourcing of passive candidates by using creative forms of online search (Boolean, social networking, LinkedIn, etc.)
 Collaborate with business development team with the objective to spend 20% of time in pipeline recruiting of forecasted demand.
 Review and understand assigned requirements and prioritize recruitment efforts based on those requirements.
 Utilize Ciber,s Applicant Tracking System extensively and record all relevant candidate activity and documentation in the candidate database.
 Qualifications:
 2+ years of experience recruiting senior level professionals in Information Technology.
 Exceptional customer service and facilitation skills along with a professional, polished demeanor.
 Experience communicating with senior leadership.
 Demonstrated ability to function/recruit on a national, multi-location basis.
 Proven performer who has a record of success supporting large professional organizations.
 Ability and experience to articulate complex and in-depth concepts along with exceptional negotiation and closing skills.
 Recruiting in a solutions delivery based organization a must.
 Experience managing the full life cycle recruiting process.
 Must have a strong professional network and be motivated to utilize outside sources.
 Willingness to work collaboratively in a team environment.
 Commitment to quality, fairness and professionalism.
 Must have a strong ethical character with high integrity.
 Effective reasoning skills.
 Recruiting in a solutions delivery based organization.
 Strong relationship building skills.
 Recruiting and/or Sales background preferred
Ciber Global is an Equal Opportunity Employer Minorities/Females/Gender Identity/Sexual Orientation/Protected Veterans/Individuals with Disabilities.  
Play.
Keep discovering! Click here.
Grow.
Ciber Global is an IT consulting company who partners with organizations to develop technology strategies and solutions that deliver tangible business value. Founded in 1974, Ciber is an HTC Global Services company. For more information, visit www.Ciber.com.