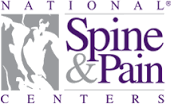 Toxicology & Operations Program Manager at National Spine & Pain Centers
Rockville, MD 20852
Toxicology & Operations Program Manager
At National Spine & Pain Centers (NSPC), our mission is to relieve pain and improve quality of life through personalized, accessible care. We currently are looking for a Toxicology & Operations Program Manager to oversee all aspects of NSPC ancillary programs including the creation, implementation, training and maintenance of services.  This role will be based out of our corporate office in Rockville, MD.
Working under the guidance of the Director of Ancillary Services, this position will: 
Create, implement, and execute the ancillary medical services portfolio.
Monitor and evaluate the toxicology program.
Communicate with all regions/centers regarding toxicology program.
Provide training on ancillary programs to include toxicology screenings, durable medical equipment, genetics testing, psychological testing,   point of use convenience kits and pharmacy topical creams.
Develop and ensure compliance with standard operating procedures.
Perform audits on charts to ensure accuracy and quality of ancillary services.
Standardize processes throughout all company regions.
Work with clinical IT department to ensure updated and current documentation in EMR system.
Work with outside vendors on coordination and maintenance of ancillary programs.
Manage inventory levels of point of use convenience kits and approve orders.
Manage financial aspects of ancillary services.
Understand, comply with, and enforce all NSPC policies, procedures, codes of conduct, and OSHA and HIPAA privacy rules.
Adhere to and uphold all applicable federal and state compliance regulations as well as NSPC's Code of Conduct and Employee Handbook,   compliance policies and procedures, and applicable healthcare fraud, waste and abuse laws.
Perform all other duties as assigned.
Successful candidates will possess the following: 
A Bachelor's degree, preferably in Health Care Administration/Management.
Minimum of one year of laboratory training/experience.
Minimum of two years of management experience.
Experience in project management and presentation delivery.
Excellent written and verbal communication abilities.
Strong organizational skills with accurate attention to detail.
Commitment to excellent internal and external customer service while communicating effectively and professionally with a diverse population.
Capacity to process reports and develop correspondence in an accurate, timely, and legible manner.
Flexibility to travel, with a valid driver's license, as needed.
Authorization to work in the United States without requiring authorization sponsorship by our company for this position now or in the future.
A satisfactory background check inclusive of driving records, criminal records, employment references, education, social security and OIG exclusions.
NSPC offers competitive compensation, comprehensive medical/dental/vision insurance options, life insurance and other ancillary plans, an employer-matched 401(k), holidays, and paid time off (PTO).
We encourage all prospective candidates to learn more about NSPC by viewing our website at http://www.treatingpain.com.
If you would like to join our team, please apply clicking the "START YOUR APPLICATION" button located above/below this description.  Please note that incomplete submissions will NOT be considered, and we are not able to respond to telephone requests for information related to our openings. 
National Spine & Pain Centers is an Equal Opportunity employer. Qualified applicants will receive consideration for employment without regard to race, color, religion, sex, national origin, sexual orientation, gender identity, disability or protected veteran status.