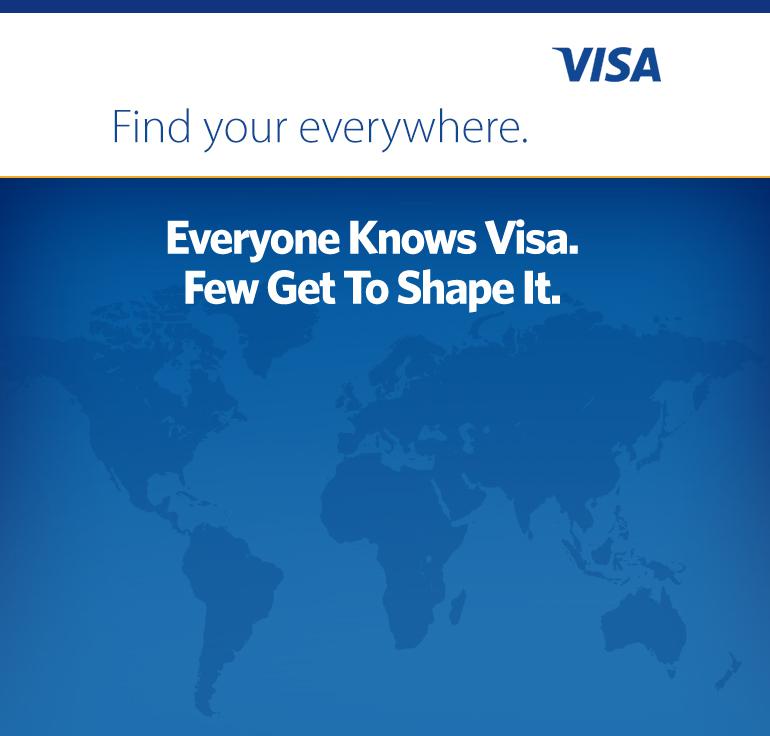 Trainer/Facilitator – Leadership Development at Visa, Inc.
Miami, FL
Company Description
As the world's leader in digital payments technology, Visa's mission is to connect the world through the most creative, reliable and secure payment network - enabling individuals, businesses, and economies to thrive. Our advanced global processing network, VisaNet, provides secure and reliable payments around the world, and is capable of handling more than 65,000 transaction messages a second. The company's dedication to innovation drives the rapid growth of connected commerce on any device, and fuels the dream of a cashless future for everyone, everywhere. As the world moves from analog to digital, Visa is applying our brand, products, people, network and scale to reshape the future of commerce.
At Visa, your individuality fits right in. Working here gives you an opportunity to impact the world, invest in your career growth, and be part of an inclusive and diverse workplace. We are a global team of disruptors, trailblazers, innovators and risk-takers who are helping drive economic growth in even the most remote parts of the world, creatively moving the industry forward, and doing meaningful work that brings financial literacy and digital commerce to millions of unbanked and underserved consumers.
You'rean Individual.We'rethe team for you.Together, let's transform the way the world pays.
Job Description
Visa University is changing the learning culture at Visa and is becoming an integral part of life at the Company where every employee and client will have access to a wealth of resources to enhance their effectiveness. We are a CEO supported start-up team within a large, global organization. We are a team of experts in our respective disciplines, but more importantly, we strive to harness our collective expertise in the most effective way for the benefit of learners. We combine rigor, data, and subject matter expertise with intuition and common sense of what will be most effective for the business. We like to prototype, launch and evaluate. We are comfortable learning from our mistakes.
The Training Director is a member of Visa Universitys Market Learning organization reporting to the Regional Head of Learning and the Head of Business Colleges. This role is responsible for the efficient and effective delivery of Leadership, On-boarding and Professional Skills training, as well as Visa-specific training in LAC. The ideal individual has advanced experience teaching and facilitating professional skills, career development and expanding leadership capabilities in learners. This individual will have experience conducting 1:1 coaching and facilitating both live and virtual training programs.
Responsibilities:
Delivers exceptional learning experiences to participants ensuring NPS targets in region are met. Engage in marketing and direct outreach programs to maintain maximum class size.
Leads by example and role model a passion for best-in-class training delivery. Thought leader in facilitation and knowledge competence. Effectively utilizes training delivery to promote and inspire a culture of learning that encourages continuous performance improvement, innovation, and learner engagement.
Builds on a strong experience of leading a Leadership/Management and Professional skills training function to ensure effective delivery and relevance of the course content and training program to colleagues from across teams. They will also be accredited to use known profiling tools and assessments, such as Hogans, HBDI, DiSC to drive results and unlock potential. This individual will also have experience facilitating both live and virtual training programs.
Supports the localization of global content to ensure that the curriculum and examples meet local needs.
Captures new training program opportunities based on class inputs and interactions and collaborates with the regional consultants to ensure that they are captured in the regional requirements with the Colleges and the Curriculum management team.
Supports Train the Trainer sessions for SMEs and VU Faculty and act as an ambassador / champion of the program.
Collects regional feedback on Business curriculum and provides feedback to the global Business colleges to help evolve centralized curriculum.
Builds a strong knowledge of the business, including internal and external trends within Leadership, Professional skills and On-boarding and keeps up to date with regional nuances.
Collaborates with partners across VU to ensure seamless delivery of programs including ensuring that classes are set up, technology and AV requirements are functioning, capturing attendance and driving attendee completion of feedback.
Support the ROI strategy for key global initiatives and the collection of regional ROI metrics to support that strategy.
Support with projects related to annual planning, creating program calendars and building strategic models for delivery.
Act as a subject matter expert in leadership development and provide consultative input on projects that involve key stakeholders
Manages the workload and assignment of facilitation across the team.
Qualifications
Basic Qualifications:
10 years of work experience with a Bachelors Degree or at least 8 years of work experience with an Advanced Degree (e.g. Masters/MBA/JD/MD) or at least 3 years of work experience with a PhD
Preferred Qualifications:
12-15 years of work experience with a Bachelors Degree or 8-10 years of experience with an Advanced Degree (e.g. Masters, MBA, JD, MD) or 6+ years of work experience with a PhD.
Experience in leading a Leadership and Professional Skills training function and working closely with internal stakeholders to build capabilities.
Passion for training delivery and experience of delivering training, presenting and facilitating content to large groups.
Knowledge of the payments business, preferably Visas products and services.
Industry content training certification is preferred (e.g. Franklin Covey, Vital Smarts, BlessingWhite)
Strong, professional executive presence and business acumen.
Passion for teaching and facilitation and providing the best learning experiences for learners.
Experience delivering formal or informal learning programs using single channel or blended approaches, including virtual and classroom-based instructor-led training (ILT), peer-to-peer learning, on-the-job learning and eLearning (achieves NPS of +80 and higher).
Proven ability to increase learner engagement in course facilitation, social media and communities.
Ability to comprehend and translate complex technical concepts into terms that are easy to understand for non-industry audiences in an influential and persuasive manner.
Strong communication (written and verbal) and consulting skills.
Strong stakeholder management, relationship management and influencing skills at all levels in an organization.
Comfortable with ambiguity and rapidly changing content and strategies.
Experience quantifying ROI for key initiatives.
Location is flexible and requires willingness and ability to travel up to 50% as needed to deliver training across South and Central America, Caribbean and Eastern USA.
Fluent English and Spanish required. Fluency in Portuguese strongly preferred
Additional Information
Physical Requirements
This position will be performed in an office setting. The position will require the incumbent to sit and stand at a desk, communicate in person and by telephone, frequently operate standard office equipment, such as telephones and computers, and reach with hands and arms.
Visa is an EEO Employer. Qualified applicants will receive consideration for employment without regard to race, color, religion, sex, national origin, sexual orientation, gender identity, disability or protected veteran status. Visa will also consider for employment qualified applicants with criminal histories in a manner consistent with EEOC guidelines and applicable local law