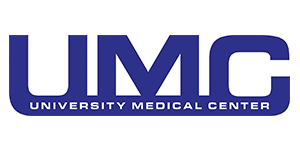 Videographer at University Medical Center
Lubbock, TX 79415
Mission Statement:
Service is our passion. We serve by providing safe, high quality care to all, achieving excellent financial performance, and training tomorrow's healthcare professionals.
Vision Statement:
To Serve Our Patients in the Best Teaching Hospital in the Country

About UMC
Magnet Designated
501 licensed beds
Regions only Level I Trauma Center
Regions only BICU
DNV accredited
Primary teaching hospital for the Texas Tech University Health Sciences Center (TTUHSC)
Ranked as one of the Best Places to Work in Texas by Texas Monthly
General Job / Performance Information
Education and Experience
Bachelor's degree preferred, or a minimum of two years of professional experience in radio, television, film, sound or new media in a corporate
Environmental/Working Conditions
This position is subject to inside and outside environmental conditions; heavy lifting & transporting camera & lighting equipment.
Interaction with other departments and other relationships
While this position reports to the Marketing Director, there is close collaboration with various administrators, department directors, and others in the development and production of multimedia content
Job Description
Create and develop multimedia (audio/video) content for patient stories, various internal marketing videos, external promotional social videos, external marketing videos, recruiting videos, departmental training, etc.
Script, storyboard, budget, allocate resources, set deadlines and select optimal forms of media for projects
Work independently, as well as part of a team to establish project deliverables
Plan video shoots; scout, select and reserve shoot locations
Develop production schedules
Select and hire additional crew and talent; direct and coach talent; make transportation arrangements for crew, talent and equipment; and ensure all location power needs are met
Reserve and rent equipment
Record and edit video and sound projects, including selecting program format for final output, capturing/importing media, organizing raw media, editing footage and sound files, creating and inserting static and motion graphics, titling, adding music/voice-over/sfx, media management and archiving project media
Implement and maintain both equipment & video libraries
Evaluate analytics
Skills and Abilities
Must possess technical skills in video, audio and post-production:
Video includes familiarity with professional cameras, different lenses, various HD and SD formats, preproduction/planning, studio and field production, lighting/grip, scriptwriting, storyboarding and editing software such as Adobe Premiere and Adobe After Effects.
Audio includes small format mixers, compression, EQ, effects processors, audio recording techniques for studio and field, multi-track and waveform editing.
Post-production entails digital video editing, still and motion graphics design, and video compression for multiple delivery platforms.
Strong soft skills are also important - stellar written and verbal communication skills, exceptional attention to detail, the ability to thrive in a team environment, and an aptitude for making quick, quality decisions. Remaining calm under pressure and having a great sense of humor are also big assets.
---
We are an Equal Opportunity Employer and do not discriminate against any employee or applicant for employment because of race, color, sex, age, national origin, religion, sexual orientation, gender identity, status as a veteran, and basis of disability or any other federal, state or local protected class.