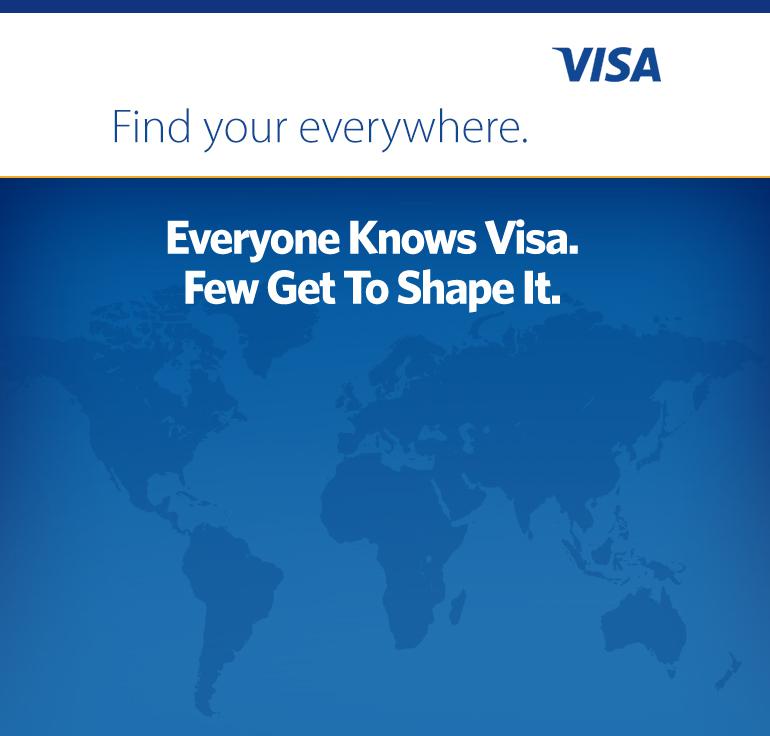 VP End User Operations Corporate IT at Visa, Inc.
Austin, TX
As the world's leader in digital payments technology, Company's mission is to connect the world through the most creative, reliable and secure payment network - enabling individuals, businesses, and economies to thrive. Our advanced global processing network, CompanyNet, provides secure and reliable payments around the world, and is capable of handling more than 65,000 transaction messages a second. The company's dedication to innovation drives the rapid growth of connected commerce on any device, and fuels the dream of a cashless future for everyone, everywhere. As the world moves from analog to digital, Company is applying our brand, products, people, network and scale to reshape the future of commerce.
At Company, your individuality fits right in. Working here gives you an opportunity to impact the world, invest in your career growth, and be part of an inclusive and diverse workplace. We are a global team of disruptors, trailblazers, innovators and risk-takers who are helping drive economic growth in even the most remote parts of the world, creatively moving the industry forward, and doing meaningful work that brings financial literacy and digital commerce to millions of unbanked and underserved consumers.
You're an Individual. We're the team for you. Together, let's transform the way the world pays.
Job Description
Company's Corporate IT group has embarked on a major transformational journey. We will not follow the 'traditional' IT playbook of simply purchasing off the shelf solutions and stitching them together. We are transforming ourselves into a true engineering organization where we put customer experience first, create highly leveraged (and loved) platforms with a heavy emphasis on operational excellence such as ensuring our platforms and services are unbreakable. Where we choose to continue with packaged software we will invent our way around their limitations such as poor UI or scale.
Job Scope
Reporting to the Senior Vice President of Corporate Information Technology, the Vice President of End User Operations provides senior leadership to drive the strategic vision for Company's End User Operations and Technology organization. The ideal candidate will provide innovative leadership, motivation, and guidance required for IT to successfully meet strategic objectives and deliverables in support of the business needs. It will be critical to foster and drive innovation and experimentation, delivering software solutions that meet or exceed customer and stakeholder expectations, often helping shape business requirements in a manner that optimally leverages technology teams. While this specific role will manage Voice, Video, Networking, Unified Collaboration, Meeting solutions, Laptops, Workstations and Monitoring, it will also involve leveraging new emerging technologies.
The Vice President of Operations will be responsible for a cross-functional global team of senior engineers, solution architects, technical project managers and operations teams to define technology project architecture, technology strategy, and play a leadership role providing guidance to stakeholders. This individual will provide thought and people leadership to identify and execute the actions required for successful delivery of Company's strategic priorities. The individual must be a strong leader, able to engage and challenge senior audiences, identify and prioritize actions, and navigate a highly-matrixed, global environment.
This position will be located in Austin, TX.
Responsibilities:
Lead the development and launch of the global End User Operations strategy from concept to delivery with a focus on new technologies particularly open extensible platforms.
Development and management of the teams to manage the demands from projects and technology upgrades including near term direction for global vendor strategy, technology strategy and global alignment of networks.
Oversee all phases of operations and technology projects including budgeting, planning, implementation, maintenance, administration, construction, staffing and logistics.
Strong people management skills with demonstrated ability to grow and mentor a high performing team.
Direct the continuous and secure operation, administration and maintenance of the corporate computing and networking infrastructure, including development of Risk Management, Identity/Access Management, Information Security and Privacy, and Disaster Recovery and Business Continuity Plans.
Analyze, automate, monitor and ensure the resiliency of the corporate landscape.
Drive organizational transformations along dimensions such as deep partnerships and agile collaboration with business, fostering a culture that encourages innovation.
Drive technical architecture and infrastructure planning as well as system hardware and software engineering activities.
Lead development of innovation and strategic direction in application of theories and concepts in end user technologies.
Analyze all assigned services from a cost, capacity, and forecast perspective, and continually evaluate new technologies and applications.
Ensure that Information Security and risk management are embedded within the culture requiring continuous improvement to a complex set of functions to coordinate security and compliance risks related to information systems and assets.
Ensure that the End User operations are conducted according to corporate standards, and in compliance with external standards as defined in company objectives (e.g., ITIL, COBIT, ISO27001/27002 and similar).
Establish standards and governance in future acquisitions to mitigate risk and maximize technology stability.
Qualifications
BASIC Qualifications:
12 years of work experience with a BS/MS in Computer Science / Computer Engineering, Science or Math, or at least 10 years of experience with an Advanced degree (e.g. Masters/MBA/JD/MD) or at least 8 years of work experience with a PhD
PREFERRED Qualifications: 
15+ years previous experience managing globally diverse support teams for a globally diverse Fortune 500 organization
10+ years of experience and very strong understanding of the user workstation environment
10+ years of experience with multi-OS platforms (Windows, OSX, Mobile)
10+ years of experience with workstation hardware and peripherals
Working knowledge of infrastructure components (LANWANWi-Fi)
Extensive background in supporting and managing effective voicevideo solutions
Prior experience in Microsoft and Cisco technologies
Self-motivated with the ability to exercise independent judgment with minimal direction from supervisor
Strong leadership and organizational skills with the ability to adapt quickly to changing priorities and assignments
Excellent verbal, written, and presentation skills; in particular, demonstrated ability to effectively communicate technical and business issues and solutions to multiple organizational levels internally and externally
Good understanding of process orientation, understanding of project management techniques, methodologies and best practices
Candidate must have demonstrated and be prepared to exhibit initiative and ownership of project success
Ability to set goals and objectives, prioritize, and manage situations to satisfactory completion
Customer-oriented and cool-tempered
ITIL, Six Sigma or Agile development experience desired