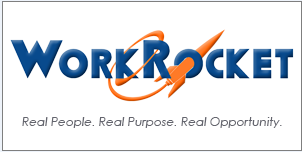 Warehouse Selector at WorkRocket
Romeoville, IL 60446
Here's your chance to get your foot in the door at an awesome company that actually cares for your physical and financial well-being!  This is not your ordinary warehouse job.

If you have warehouse experience and are comfortable working in a fast paced, high volume environment, this is a job opportunity you should explore.  This is the better opportunity you didn't even know you wanted! 

Our Client is a leading distributor of natural and organic food products, is searching for individuals to join their team in Romeoville, IL as a Warehouse Selector, Palletizer, or Cold Chain Warehouse Associate.

Some of the benefits of this great opportunity: 
Competitive pay – Starts at $15.50/hr. + shift differential + lots of opportunities for overtime + Incentive Pay!
Upward mobility – If you come to work every day with a great attitude and willingness to learn and succeed, we will look to you first for promotion opportunities! The company loves to promote from within and offers many opportunities to move up into lead roles and higher if desired.
Great benefits – Including medical, dental, vision, 401k, tuition reimbursement and wellness program that start after only 30 days!
Scholarship program for dependents of employees.
Straightforward work – This is a position that you should be able to catch on to quickly. After your initial training, you will be able to start on your own usually on your first day.
Great systems in place – What will make your job easier is the technology and structured systems the company has in place. With simple instructions to follow, clever scanners to use, and other coworkers bringing the products you need to your area, you can expect to carry out your duties with minimal frustrations.
Safety and physical wellness – Part of your initial training will be how to stay safe on the job. They want to make sure you can safely carry out your work without injury or strain. 
Training – They will train you on how to use the equipment in the warehouse to increase your skills, including the electric pallet jack and cherry picker.
A culture of giving – Our Client's people put their hearts where their hands are! Their faith-friendly, people-first culture is built around caring and helping others. Their employee owners serve in local soup kitchens, create healthy meal kits for the hungry, build and repair homes, collect relief supplies and much more.


All qualified applicants will receive consideration for employment without regard to the individual's race, color, sex, national origin, religion, age, disability, genetic information, status as a military veteran or any other characteristic protected by applicable law.